The purpose of the Infant program at Arbor Montessori School is to encourage, assist and protect the normal development of each unique child. The primary goals include development of movement and independence. Children in the program will flourish with prepared environments which respect, support and respond to their basic needs for independence, exploration and the building of trust and self-esteem.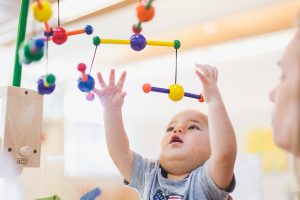 Infant Program Curriculum
In the Infant classroom, there is a low student ratio. Our staff, well versed in true Montessori, realizes that even a pre-verbal child can communicate using movement. The prepared environment and sensorial training, which Dr. Montessori developed, is consistent with developmental needs and capabilities of a very young child.
Materials in the Infant classroom have a developmentally appropriate goal. We call this their work. Works are simple, attractive and self correcting. In a non-competitive environment, the child can choose his own work. The classroom is calm and quiet so that an infant can concentrate on what he is doing. Too much noise and over stimulation can make an infant drowsy and sleepy, blocking out all possibility of learning. Our goals within the Infant classroom are as follows:
Foster the development of basic trust
Assist in the natural development of personality, based on unique needs and wants
Respond appropriately to the infant's needs to be loved, respected, and accepted
Nurture infants through their senses, allowing infants to observe and move freely
Offer holding and feeding comfort
Maintain a routine that will be both flexible to an infant's daily needs, yet predictable so that the infant feels secure in his environment
Giving the infants time, attention, trust and respect is the foundation of the Montessori philosophy. The goal is to foster a child who feels secure, autonomous and competent.
Recommended reading
Montessori From the Start by Paula Polk Lillard and Lynn Lillard Jessen
Diaper Free Before 3 by Jill Lekovic, M.D.
The Absorbent Mind by Dr. Maria Montessori, website: www.michaelolaf.com
Understanding the Human Being by Silvana Montanaro