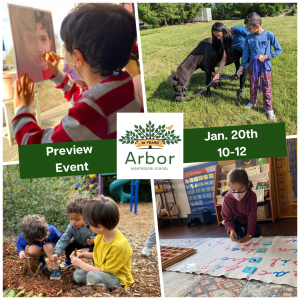 RSVP today for our Annual Preview Event
The Arbor Preview event is our official kickoff to the 2024-2025 enrollment season!  Families that attend will be able to submit their applications for priority placement for our 2024-2025 school year directly after the event. 
Delivering an authentic Montessori experience, Arbor Montessori school has been a cornerstone within the Sammamish Community for more than 30 years.  Nestled in the heart of the city, Arbor supports students and their families ages 15 months through 6th grade.
Our Preview Event is an "open house" format from 10am-12pm where you will be able to tour our two acres of grounds that includes our gardens, meadow and farm complete with miniature horses and chickens.  You will get to access and experience all of our classrooms as well as meet our faculty.  
We are looking forward to showing you around on January 20th!
Enrollment for the 2023-2024 School Year
We have very limited spaces remaining for the 2023-2024 school year in our Elementary Program.  If you are interested in mid-year placement, please reach out to our Admissions Director Melissa Laight via email at melissa@arborschools.com or by phone at (425)392-3866 for more information.