The admission process starts with a scheduled tour of the school. We recommend that this first visit, if possible, be without your child. During this time, parents can talk with one of the directors about the approach, philosophy, and methods of the school.  Interested parents fill out an application and pertinent forms.  Elementary and Junior High student applicants will visit the school and tour the Elementary program areas.
We invite you to take the first step and contact our Director of Admissions, Correine Magee, at (425) 392-3866, or by emailing Correine@ArborSchools.com, to schedule your tour at Arbor Montessori School.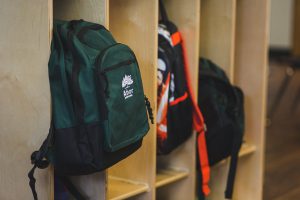 Acceptance 
– All sources of information, including available openings, are considered when making decisions about student acceptances. Arbor Montessori School siblings are given a priority, as are students with previous Montessori experience. Families will be notified by the first week in April regarding status of acceptance to Arbor Montessori School and obligation for registration and payments.

  A placement is secured upon completion of the Enrollment Contract and receipt of tuition deposit. Acceptance is conditional during the first month of school attendance. All Preschool through Kindergarten students are required to attend a two week summer session (more detail in acceptance information). This opportunity acquaints the new student with Arbor Montessori School and classroom procedures while giving him or her a head start for September.
Dress Code – There is a dress code for Arbor Montessori students, which includes a uniform sweatshirt and forest green, black, navy or khaki shirts, pants, skirts, or shorts, and white, green, navy, black or ash colored tops, all free of decoration. Specifics are detailed in our online Parent Handbook.

The purpose of the dress code is to ensure that clothes do not become a distraction for the students, and to allow the children to appreciate each other more fully for who they are instead of how they dress. All clothing worn in the classroom, including coats or jackets, must meet the dress code.  Clothing worn outside does not need to meet dress code requirements.