The Toddler program at Mt. Si Arbor Montessori School in North Bend provides an opportunity for growth to occur in a safe environment designed specifically for toddlers. The environment offers toddlers a special atmosphere of understanding, respect and support. The Toddler program fosters development of language, art, music and practical life skills.
In the Toddler class, the exercises of practical life are primarily concerned with coordination and control of movement, concentration, and independence. As children repeat the activities, their concentration and coordination increase, and they become more independent in their ability and desire to care for themselves and their environment. Many parents are amazed to see what toddlers can do: they wipe up spills, sponge off tables, set the table for snack, pour each other's beverages and wash dishes.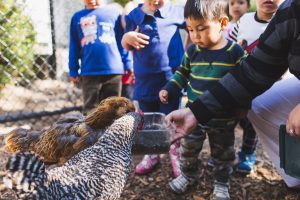 Toddler Classroom Curriculum
The Environment All furniture in the Toddler class is specifically designed for promoting independence of the young child. The children enjoy working and eating at tables that fit their size. Maximum toddler class size is 14 children with one teacher and two assistants.

Social and Emotional Development Often the Toddler community is the first experience children have with others of their own age and abilities. Learning how to interact in respectful ways is the base in forming the Toddler community.
Language Development Language development is a high priority in the Toddler class. It is during the toddler years that children speak their first words, phrases, and sentences. Some children may begin the program with no spoken language and others may already know many words.
Recommended Reading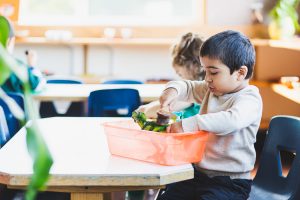 Montessori From the Start by Paula Polk Lillard and Lynn Lillard Jessen*
Diaper Free Before 3 by Jill Lekovic, M.D.
*
The Absorbent Mind by Dr. Maria Montessori* Website: www.michaelolaf.com*
Montessori: The Science Behind the Genius by Angeline Stoll Lillard*
Understanding the Human Being by Silvana Montanaro